Welcome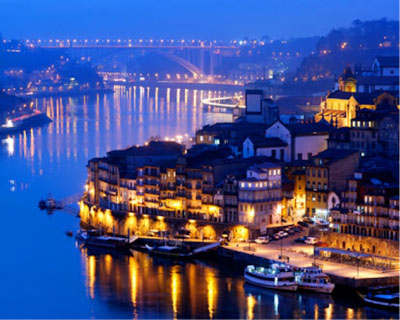 We are pleased to announce that the 30th International Conference on Psychology and the Arts will be held at the University of Porto, Portugal, June 26-30, 2013. Our hosts will be Professor Diniz Cayolla Ribeiro and Professor José Pereira Bastos. The conference sponsors are the Institute of Research in Art, Design and Society (i2ADS), University of Porto and the PsyArt Foundation.
Although the majority of the papers will be in English, depending upon submissions, we may also have sessions in French, German, and Portuguese. Papers should deal with any application of psychology—including psychoanalysis, object relations, feminist, Jungian, or Lacanian approaches, cognitive psychology, or neuroscience-- to the study of literature, film, painting, sculpture, music, or the other arts. Our conference is small (maximum 70 papers), very convivial, and draws scholars from around the world. We also welcome conferees who do not plan to present papers.
The registration fee of $295 includes all sessions, all coffee breaks, opening reception (evening of June 26), two tours (June 27 walking tour and June 30 bus tour), and Sunday evening June 30 closing banquet. The registration fee is reduced to $150 for graduate students.
Information about Porto
Located along the Douro River in northern Portugal, Porto (also known as Oporto) is the second largest city in Portugal, and one of the oldest European cities, dating to Roman times. The city center was registered as a World Heritage Site by UNESCO in 1996. One of Portugal's most famous exports, port wine, is named for Porto, and you can visit the nearby wine-making region of Vila Nova de Gaia. Universidade do Porto is one of the major universities of Europe. Porto is served by Francisco de Sá Carneiro Airport, with direct flights from Madrid, Paris, London, Amsterdam, and Frankfurt. You can also fly into Lisbon, from which there are frequent trains to Porto and a major highway connecting the two cities.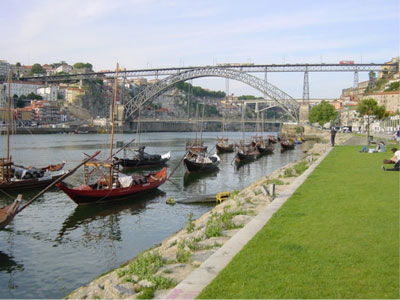 Preliminary conference outline
Wednesday, June 26:

Welcome reception, 6 pm, Museum of FBAUP (Faculdade de Belas Artes da Universidade do Porto). Snacks and port wine.

Thursday, June 27:

Morning: Official opening. Start of parallel sessions. Lunch at the refectory.
Afternoon: City walk. During the walk conferees will see:


Friday, June 28:

Sessions continued. Lunch at the refectory. Film screening in the evening, at FBAUP. Directors' Meeting in the late afternoon. During this meeting, conferees can visit Museu de Serralves (http://www.serralves.pt/) or other places.

Saturday, June 29:

Sessions continued. Lunch (sandwiches) at FBAUP
Film screening in the evening, at FBAUP.

Sunday, June 30:

Final session, followed by Members' Meeting (all conferees invited).
African Lunch at Mede Vinagre (moamba and cachupa--meat or fish--only)
Bus trip in the afternoon to Guimarães (European Capital of Culture 2012) - http://www.guimaraes2012.pt
Final Banquet at Praia da Luz - http://www.praiadaluz.pt

Monday, July 1:

Morning departure. We assume most conferees will arrive Wednesday, June 26 and depart Monday, July 1.
Hotel
We have made arrangements for 60 rooms at Hotel B&B Porto-Centro, 46€/night each single or double room, including free breakfast buffet.
Conferees make their own individual reservations, either by email (booking.porto@hotelbb.com) or fax (+351-22-040-7010), mentioning the booking code PSYART2013:
Hotel B&B Porto-Centro**
Praça da Batalha nº 32/34
4000-101 Porto, Portugal
Phone: +351-22-040-7000 (Ext. 2025)
Fax: +351-22-040-7010
Email: booking.porto@hotelbb.com OR gisela.barros@hotelbb.com
Facebook: http://www.facebook.com/HoteisBB.Portugal
Papers
Papers should be short, 20 minutes at most. Please observe the time limit to allow for the maximum number of presenters. Normal speaking rate is 140 words per minute, and, for clarity, a scholarly presentation should be somewhat slower. Our standard 20-minute limit allows you to speak about 2400 words or eight to ten pages maximum. An additional ten minutes are allotted for discussion for each paper, usually at the end of the session. For each session, there will be a moderator responsible for keeping speakers within 20 minutes. The moderator speaks last, and it is therefore to his or her interest to keep to the schedule.
If submitted for publication after the conference, papers can be as long or short as you like.
We recommend that speakers in English who are not native speakers of English accompany their talks with PowerPoint.
Please prepare your abstract and add it to the registration form below. Abstracts must be less than 150 words. Any excess will be cut.
Registration Form 2013
The deadline for sending us your title and abstract and registration fee is May 1 or the time at which we receive 70 abstracts, titles, and registration fees, whichever comes sooner. Accepted abstracts with completed registration, i.e., all three items submitted, by the deadline are assured a slot on the program. Abstracts submitted and accepted after then will be put on a waiting list and will be put on the program as cancellations permit.
For a complete registration, we require three items:

a completed registration form (see below) including paper title.
Brief abstract of paper (150 words maximum; excess will be cut). These abstracts enable us to place your paper in an appropriate session. We will also publish them online and distribute the abstracts at the conference.
A registration fee of $295 U.S., which includes admission to all sessions, two tours, reception, coffee breaks, and banquet. The $295 fee must also be paid by those not presenting a paper and by accompanying family or friends who wish to have a name tag and participate in conference events. Graduate students and children (under 18) of conferees pay $150. The registration fee includes a $25 tax-deductible donation to the PsyArt Foundation, as voted in 2005. The registration fee is refundable (except for the $25 donation) for any reason until June 1, but not thereafter for any reason. The donation makes you a member of PsyArt, entitled—and encouraged—to attend and vote at the annual meeting of PsyArt which will take place on at the conference in Porto. You will find instructions for payment after the registration form below.
Important: Include your e-mail address below. It will not come through to us automatically from this form, and, if we don't have it, our communications with you will be impossible. Make sure it is typed correctly.
If, by April, you are not getting e-mail from us, let us know. Your registration has probably gone wrong. Do not assume that some currency arrangement you made the previous year is still effective. Do not leave your registration for some friend to do. Make sure that we have your complete registration (all three items) and your correct e-mail address.
Payment
Your conference registration fee pays for a reception Wednesday evening June 26, sessions from Thursday through Sunday morning, coffee breaks, a walking tour on Thursday afternoon June 27, and a bus tour and a final banquet on Sunday, June 30. The registration fee is $295 U.S., $25 of which is a tax-deductible donation to the PsyArt Foundation which supports the conference, the journal, and the listserv. Registration for graduate students is $150. The registration fee (except for the $25 donation) is refundable for any reason until June 1, but not for any reason thereafter. The donation makes you a member of PsyArt, entitled to attend and vote at the annual meeting to be held on Sunday, June 30 , in Porto. Please do attend and vote in Porto.
U.S. registrants can send a check to our treasurer, made out to "PsyArt Foundation":
Dr. Elizabeth Fox
Treasurer, PsyArt Foundation
2 Sparks Place
Cambridge, MA 02138
U.S.A.
e-mail: emfox@mit.edu
Alternatively, both U.S. and non-U.S. registrants from many countries can pay through our PsyArt account at PayPal.com. That way you can charge your registration to your credit card over the Internet with no delay and save the bother of writing and mailing a check. If you do pay this way, however, we ask that you add 3% ($9) to your payment, because that is what PayPal charges us for a credit card payment into the account.
For Western European and other non-U.S. registrants, our local bank puts a heavy surcharge on foreign checks. We much prefer that you use PayPal. If necessary, you can arrange a check for us through your bank. Non-U.S. registrants who cannot arrange payment through their banks or through PayPal should contact Elizabeth Fox.
Registrants may choose to sign up for a PayPal account during the Web "Accept payment" process. An "account" simply means telling PayPal your name, address, and your credit card number.
Registrants outside the U.S. may need to take a few extra steps to pay or to establish a PayPal account. You may need to sign up for PayPal separately before making payment to the conference. Here are the directions for doing so.
Signing up for a PayPal account does not commit you to anything—it just enables you to use your credit card to make payments on the Internet to this conference (and anything else that catches your fancy). The Wall Street Journal assures us that this method of payment is more secure than check or money order.
To begin the PayPal payment process, click on the icon: